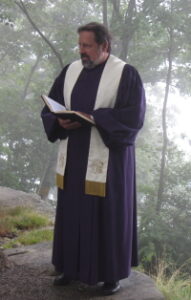 Ordained in 1991, Rev. Dr. Possman has performed Hundreds of weddings in the USA and Denmark.
Creating original pieces of ceremonies for couples is one of his favorite activities. He is a proud grandfather, father and a loving husband. Gregory will do his best to officiate your wedding if your Minister, Priest, Rabbi or Pastor cannot. If your ceremony will be taking place in a natural setting, Rev. Dr. Possman will happily perform it.
Rev. Dr. Possman is just as comfortable performing ceremonies in the Mountain settings as he is presiding over ceremonies in the church. Rev. Dr. Possman cuts firewood, scuba dives, hikes, and enjoys riding his motorcycle in the Blue Ridge Mountains of North Carolina where he lives with his wife, Sandra and their two cats: Gracie and Savanah.
Rev. Dr. Possman has served as President, International Vice-President and currently serves as a Minister Director of the Universal Brotherhood Movement Inc.